Getting Started

Bluetooth Connectivity

WiFi Connectivity

Thermometer Operation

FireBoard Drive

Temperature Probes

Technical References

Troubleshooting
FBX11 Specs
Device Specifications
Property
Description
Dimensions
3.9"W x 2.4"H x 1.1"D (98 x 62 x 29 mm)
Weight
4.6 oz
Power Input
5VDC 200mAh (min)
Battery Type
Li-Ion 2600 mAh
4000 mAh (latest versions)
Power Connector
Micro USB
LCD Display
128 x 32 black and white, backlit
Operating Temperature
-13 to 140°F (-25 to 60°C)
Measurement Range
Thermistor Probes: 0 to 572°F (-18 to 300°C)
RTD Probes: -58 to 716°F (-50 to 380°C)
Measurement Accuracy
±0.7°F (±0.4°C), ±0.1% of reading
Measurement Resolution
0.1°
Probe Inputs
2.5mm phone jack (x6)
LED Status Lights
Power, USB Power, 'Read' temperature
Aux Port Input
8pin Mini DIN
Antenna
Internal
Wireless
WiFi: 802.11 a/b/g/n & Bluetooth 4.0
Encryption Protocols
WEP, WPA, WPA2
Operating Temperature
The FBX11 unit can be used in a variety of climates, the operating temperature range is -13 to 140°F. FireBoard users in northern latitudes have reported reaching temperatures as low as -20°F.
Please do not mount the FireBoard unit inside ovens!
Power Supply
The FBX11 is designed to run 24/7 with USB power, or battery power for approx 24 hours on a full charge. A power and charging cord is included, or any standard type Micro USB charging cable can be used. Charge time will vary based on battery conditions but can take up to 4-8 hours to completely charge. The full charge of the battery can be diminished quicker with external devices plugged in, like the Drive Cable for Fan usage.
Phone/Tablet Compatibility
FireBoard requires that your mobile device is equipped with Bluetooth 4.0+ hardware and run either iOS or Android. To use FireBoard on your Apple product, make sure your device is one of the following with iOS8 or later:
iPhone 4s or later.
iPad (3rd generation) or later.
iPad mini or later.
iPod touch (5th generation) or later.
Apple Watch that supports OS 5.3.
To use your FireBoard on an Android device, make sure your device is on Android 5.0 or later and is equipped with a Bluetooth 4.0+ radio. Not sure if your phone meets this requirement? Contact us at support@fireboard.com and let us know which phone you're using – we'll do our best to let you know the answer!
We do not support the Google Watch at this time.
Voice Control Devices
Google Assistant
FireBoard works with the Google Assistant, available on iPhone, Google Home and most Android phones. Now All you have to say is "OK GOOGLE, TALK TO FIREBOARD"
If this is your first time - you'll need to link your FireBoard account through the Google Assistant App.
Once you're talking to FireBoard, you can say any of the items below: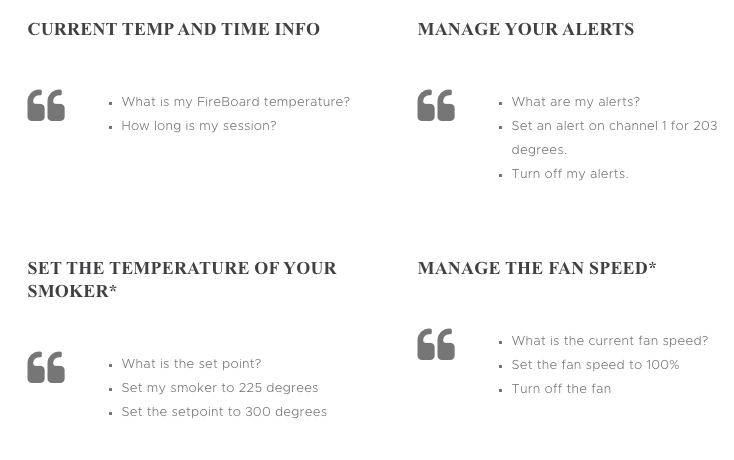 Alexa
FireBoard works with all Amazon Alexa enabled devices. Find and enable the FireBoard Alexa Skill in the Alexa Skill Store. Sign in with your FireBoard account through the Alexa App. Once you are linked, you're ready to command Alexa. Say " ALEXA, ASK FIREBOARD WHAT IS THE CURRENT TEMPERATURE?"
Alexa can do much more than just check the temperature, try some of the phrases mentioned above for more functionality.
With both of these Voice Control Devices some of the commands are relevant to having a Fan & Drive Cable which would be purchased separately.