Getting Started

Bluetooth Connectivity

WiFi Connectivity

Thermometer Operation

FireBoard Drive

Temperature Probes

Technical References

Troubleshooting
Fan Installation
Installation of your fan may require some ingenuity due to the large variety of smoker types available. We've addressed several of the popular types below - the fan we sell may be a great option for your setup or you may have better results with a fan and adapter plate sold through other companies.
It may be necessary to find a way to restrict the air flow when the fan is off. In other words, even at 0% speed, air can travel through the fan blower assembly and into the smoker. If you find there is too much air flow, a piece of metal or aluminum foil can be used to reduce the effective size of the blower opening.
Kamado Style
On most kamado style cookers, fans slide into the tracks of the vent door. If your kamado is a larger model, you may need to use an adapter plate to get the right fit. Depending on the fan or size of your kamado, you may need to even go one step further and trim the adapter plate slightly for the best installation.
The 20CFM Snap-on Blower that we offer fits standard sized kamado cookers, fitting vents that are 2.5" tall. Find detailed installation instructions from the manufacturer on our website.
Adapter plates for the snap-on blower that we sell can be purchased from the manufacturer.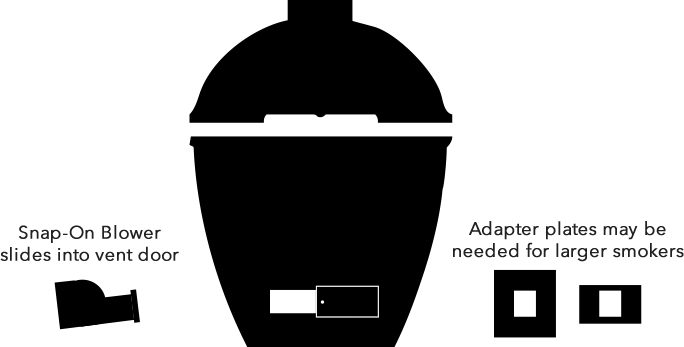 Kettle and Bullet Style
Kettle and bullet style smokers usually require cutting a hole in the lower portion of the smoker for proper fan installation. For these smokers, it is key for the air flow to be diverted downward - flowing around the base then back up into the bed of coals.
The 20CFM Snap-on Blower that we offer installs snugly in a 1" round hole. If your situation requires you to divert the air downward as mentioned above, a small piece of tin could be used to act as a deflector. If you'd rather have a simpler installation, several manufacturers offer fans and adapter kits to fit kettle and bullet style smokers. FireBoard Drive works with many fans on the market - please let us know if you have any questions on compatibility!
Our friends over at Flow & Slow BBQ posted this video on YouTube that shows how another manufacturer's fan can be installed in a kettle and used with FireBoard Drive.
Ball Valve Adapters
Some additional ball valve adapters can be found here: